Details

Category: Blog Articles
Published on Tuesday, 23 July 2013 17:52
Written by Mike Feng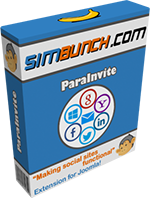 Yes! Finally, the long awaited update is here! ParaInvite 4 is a major rework from the previous version. Written from to support Joomla 3+ (including Joomla 2.5), Parainvite 4 packs some serious features!
It is way too long to describe it, so if you want to read about it in full, please check out the documentation, or just dive straight into our demo. Here, we will try to list some of the changes from ParaInvite 3.5
Major code rewrite
Joomla MVC framework. Supports Joomla 2.5 and Joomla 3+
ParaInvite Pro has been removed. We have combined all the features into one complete package
Uses bootstrap
Added JomWall to integration (together with JomSocial and Community Builder)
Added notification system (you will see it on both the Invite and History pages
Added ability for users to store all imported emails (even if they didn't send invites to them) so they can be notified if their friends join the website
Improvement in user friendliness
Simplified process for Facebook invites sending
..and more!
ParaInvite 4 comes with a upgrading component for users with ParaInvite 3.5 installed. If you're upgrading, DO NOT install ParaInvite 4 first! Install the upgrade component, let the upgrade process complete, then install ParaInvite 4.