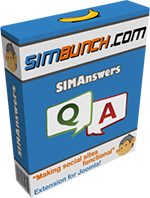 SIMAnswers 2.5 is has just been released, packed with even more features and upgrades!
First and foremost, SIMAnswers now supports all 3 versions of Joomla - 1.5, 1.6 and 1.7. Many of our users have been waiting patiently for us to get around doing this, and we appreciate your support! We will be doing the same conversions to ParaInvite and SIMGallery shortly. In fact, work has already started on SIMGallery, and more details will be available shortly. Please stay tuned.
In version 2.5, users can post code snippets in their questions and answers by using the "code" tag ([code][/code]). As admin, you can also choose to allow your users to post questions and answers using your site's WYSIWYG editor, and limit the type of HTML elements allowed.
The most important update is that users can now attach files to their questions and answers! We get a ton of requests for this feature, and we find ourselves in the very same situation recently. The file upload is done beautifully in the question/answer posting page, you have to give it a try to see it for yourself. Admins can also choose which file types users can upload, and the maximum filesize allowed.
The admin backend has also been given a facelift. There is now a control panel, and the Questions Manager has been redesigned to include the ability to administrate file attachments. Feel free to give the demo a spin!