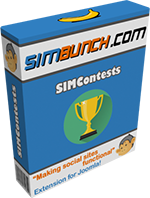 Happy new year! We are happy to announce the long due major update to our beloved SIMContests.
SIMContests allows you to create highly configurable photo and video contests for your community. Your users can then submit and vote for entries, with the possibility of winning great prizes!
With its own points system and digital points store, you can also monetize your website as your users buy - and win - points to enter the contests.
What's new in SIMContests 2.0:
Battle Mode!

The new Battle mode is similar to contests, with 2 major differences.

First, instead of having an open contest, admin will decide which specific users will be part of the battle.

Second, admin may allow users to start battles in the frontend by challenging other users. This is a much requested feature, and it's finally here!
Backend Entry
Approval

Admin can now approve multiple entries at the same time in the backend.
Revamped Backend
Management

Contensts/battles management and entries management have been changed to make it easier for admins to manage their content.
Want to know more? Check out the documentation, or hop right in on our live demo.
SIMBunch wishes everybody the best in 2018, especially with the arrival of Joomla 4. Need help upgrading your Joomla websites? Contact us for a free quote!