Product Info
Rating:
(3 Ratings)
Read reviews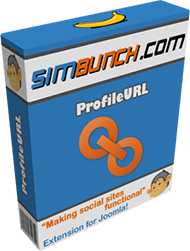 ProfileURL allows your Community Builder, EasySocial, JomSocial, JomWall, Kunena, or SIMAnswers users to customize their profile, group, and page links, exactly like how it's done on Facebook. It is also integrated with ParaInvite's Namecard links.
Want to let your users have profile/group/page URLs like https://www.simbunch.com/mike_feng? Want to significantly increase your website's SEF and give your users' profiles a higher higher exposure on search results? With ProfileURL it's a breeze!
Admins can choose to automatically set up the profile URL everytime a user registers, or make it a manual process (like Facebook). You can also choose to allow multiple updates or just once.
ProfileURL will auto suggest profile URLs for users based on their usernames, first names and last names. It will also list all the groups and pages owned by the user so he can set up the group/page URLs. The extension will check if the URL conflicts with other names, like menu item aliases, other users' usernames etc. What's more, ProfileURL will work even if Joomla's SEF is disabled, and for websites that support multiple languages!
ProfileURL also increases your users' profiles SEF by displaying their shortened link on every profile page. To see this in action, search for "site:simbunch.com" on Google. You will notice that Google has indexed all the URLs to user profiles using their unique ProfileURLs.
Profile URLs are integrated with:

EasySocial
JomSocial
Community Builder
JomWall
Kunena
Group URLs are integrated with:

EasySocial
JomSocial
Community Builder (with Groupjive)
JomWall
Page URLs are integrated with:
The integration with EasySocial is 2-way, meaning if you have the "permalink" field in EasySocial, changes to that field will be managed by and reflected in ProfileURL.
---
Recommend this Extension to your friends:
Steve Z

(1) rated

I must say this is some of the best support I have had through a commercial extension. Mr. Feng replies same day and even goes to your site to help out if needed in a timely manner. i would definitely recommend this for cb and any other use! Thanks again Mike!

Posted on 26 October 2014|

Was this review helpful to you?

Yes No

omni kneeland

(1) rated

Super sweet extension, excellent support. For years I've admired the vanity urls on other sites. Now my members point people to their profile with a simple domain.com/johndoe. This is super slick for sharing, which is totally inherent in the nature of a social network. This extension works. Support is very responsive and patiently got me through a few questions during setup. Highly recommended. Again: super slick extension and awesome support.

Posted on 26 January 2014|

Was this review helpful to you?

Yes No

Anders Hidman

(1) rated

A delicious, extension, and with excellent support. Recommended.

Posted on 13 July 2012|

Was this review helpful to you?

Yes No