Product Info
Rating:
(3 Ratings)
Read reviews
Page 1 of 3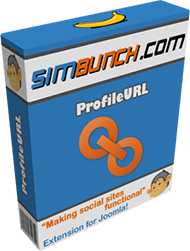 ProfileURL allows your users to customize their profile, group, page, events, galleries URLs etc, like how it's done on Facebook. It uses a plugin system that allows you to integrate with any 3rd party extension.
Want to let your users have permalink URLs like https://www.simbunch.com/mike_feng? Want to significantly increase your website's SEF and give your users' profiles a higher higher exposure on search results? With ProfileURL it's a breeze!
Features Summary
Plugin System - Create plugins for 3 type of URLs: Profile, Secondary, and Other (more information below).
Unlimited Integrations - Able to integrate with any 3rd party extensions.
Add On Register - Decide whether to set up a user's profile URLs on register, or manually (like on Facebook).
Once or Multiple Updates - Decide whether to allow users to change their URLs once or multiple times.
Auto Suggest - Displays a list of suggested URL names for easy choice.
Conflict Prevention - Checks if entered URL name conflicts with other names, like menu item aliases, other users' usernames, banned words etc.
Multiple Language Support - Supports websites with multiple languages, with or without language codes in their URLs.
Steve Z

(1) rated

I must say this is some of the best support I have had through a commercial extension. Mr. Feng replies same day and even goes to your site to help out if needed in a timely manner. i would definitely recommend this for cb and any other use! Thanks again Mike!

Posted on 26 October 2014|

4 of 5 people found this helpful.

Was this review helpful to you?

Yes No

omni kneeland

(1) rated

Super sweet extension, excellent support. For years I've admired the vanity urls on other sites. Now my members point people to their profile with a simple domain.com/johndoe. This is super slick for sharing, which is totally inherent in the nature of a social network. This extension works. Support is very responsive and patiently got me through a few questions during setup. Highly recommended. Again: super slick extension and awesome support.

Posted on 26 January 2014|

3 of 3 people found this helpful.

Was this review helpful to you?

Yes No

Anders Hidman

(1) rated

A delicious, extension, and with excellent support. Recommended.

Posted on 13 July 2012|

3 of 3 people found this helpful.

Was this review helpful to you?

Yes No