Product Info
Rating:
(1 Rating)
Read reviews
Page 3 of 7
Followers
SIMContests allows users to follow each other like on Twitter. This allows users to add their favorite designers or photographers on their follow list, and they will be notified when they take certain actions.
Users can choose to auto-follow any users whose submissions they vote with a maximum score of 5.
They can see the list of users they follow, and those who follow them, on their dashboard.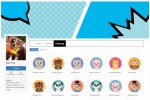 Guest

rated Posted on 10 November 2017|

Was this review helpful to you?

Yes No