Product Info
Rating:
(2 Ratings)
Read reviews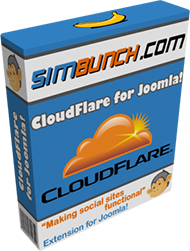 CloudFlare for Joomla! is a simple plugin that allows Joomla! websites to fully utilize CloudFlare's free Universal SSL . The plugin does a couple of things:
Fixes the infinite redirect issue
Loads all content (images, css and script) via https, whether they are added using relative or absolute URLs
Documentation
First, you'll need to set up your website to work with CloudFlare.
Download the CloudFlare for Joomla! system plugin below and install it.
Re-order your system plugins to ensure it's loaded first.
Open your Joomla's configuration.php and edit the value of $live_site to "https://www.example.com/". Note the "https" and replace "www.example.com" with your domain.
If you're not already a CloudFlare user, click here to learn how to get started.
Next, obtain an SSL certificate from CloudFlare
Go to your website(s) list on CloudFlare and click the next to your domain name then click CloudFlare Settings.
Scroll down the page until you get to the SSL section and select Flexible SSL from the dropdown.
Note that this is only if you are using the free Universal SSL and your site do not already have an SSL certificate.
You now need to set up a page rule so that CloudFlare will deliver all your content via HTTPS.
Click the again and select Page rules.
In the URL pattern field enter http://www.example.com/*.
Change Always use https to ON and click Add Rule
If you are using www or a subdomain, you NEED to ensure you have configured to allow CloudFlare to route through them.
That is all. Now just wait for 10 to 30 minutes and start enjoying a more secured website!
If you are unsure on how to make your Joomla! website work with CloudFlare, we provide professional services to get you started with a flat fee of $50/domain. Contact us!
Ejandra Mae Dimacali

(1) rated

This solved my infinite loop problem. Just followed the instructions and worked like a charm! Thank you for this.

Posted on 01 September 2016|

1 of 2 people found this helpful.

Was this review helpful to you?

Yes No

rezadindar

(1) rated Posted on 01 July 2016|

2 of 2 people found this helpful.

Was this review helpful to you?

Yes No