Product Info
Rating:
(1 Rating)
Read reviews
Page 1 of 9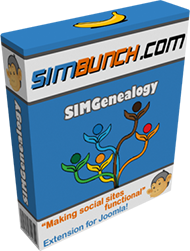 SIMGenealogy is a full-featured genealogy and family tree extension for Joomla! It is the ONLY genealogy product that displays family trees in a complete, meaningful, and easily understandable chart.
Quickly create family trees or shared genealogy projects, with privacy settings, project managers, commenting, notes, and more. I have created a sample family tree based on the popular TV show Modern Family , feel free to check it out!
Read on for its full list of feature.
Lapson Parazi

(2) rated

Special from other genealogy software. It's very unique and looks different from other genealogy software. Works great and beautiful.
No problem using, very easy to use.
Very fast support! I have problem uploading big gedcom file and Simbunch reply immediately

Posted on 04 March 2016|

3 of 4 people found this helpful.

Was this review helpful to you?

Yes No