Details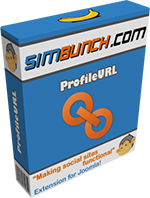 We have just released the all new ProfileURL 3.5.0. There are some important changes and major updates:
Joomla 3+ only

As Joomla 2.5 is nearing the end of its support life cycle, we have decided to drop support for it. In the months to come, we will begin to release updates for our other products without support for Joomla 2.5.

If you need assistance upgrading your website from Joomla 2.5 to Joomla 3+, feel free to send us an email. After all, we just upgraded our own, and it was quite an undertaking.
Responsive Design + Bootstrapped enabled

ProfileURL now works perfectly on mobile devices.
All New Integrations

We have added support for EasySocial groups, SIMAnswers dashboards, and Kunena user profiles.
Switched from Mootools to jQuery

Keeping in line with Joomla's roadmap, we have switched to jQuery. We actually started the change with SIMAnswers (most people didn't even notice this), and will be proceeding with our other extensions in time.
For a full list of extensions supported by ProfileURL, please check out the documentation page, or go straight to the live demo (requires login)!
---
Sharing is Caring
Details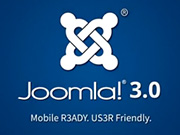 Finally, we are here. It's been ages in the making, but we had to do it. It took us so long only because we have so many 3rd party extensions that we have modified through the years, and the only way is to create Joomla 3+ compatible versions of them ourselves - every single one of them. Nevertheless, SIMBunch is now on Joomla3!
If you come across any broken links on the site (we've checked thoroughly, but just to be sure), please do me a huge favor and let me know.
---
Sharing is Caring
Details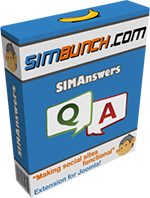 For about a year, while ParaInvite, SIMGallery, and ProfileURL have been receiving constant updates, not much has changed for SIMAnswers. Well, all that has changed...
BIG news: SIMAnswers has just undergone a COMPLETE OVERHAUL - and oh boy what an upgrade!! Packed with a ton of new features, streamlined user processes, and beautifully designed, SIMAnswers can be used as a Questions & Answer solution, a Forum, or even a Support Ticket system. Read on for the loooooooong list of new features and changes!
---
Sharing is Caring
Details
We are having a Thanksgiving/Black Friday sale at SIMBunch. Use the coupon code SIMAWESOME to enjoy 20% off all purchases, from now until December 2nd! Great opportunity to spread the holiday cheers with ParaInvite, upload holiday photos with SIMGallery, or be the first to grab the all new SIMAnswers, to be released in a week!!
Our friends at Ready Bytes are also having an amazing holiday sale. Enjoy flat 33% discount on all products with Ready Bytes with the coupon code PPBUNCH3DAYS33, valid from now until December 2nd. Great time to start selling with ReadyBytes e-commerce extensions!
---
Sharing is Caring
Details
The first time I heard of paGo was back in May 2011, at the CMSExpo in Chicago. A small group of Joomla! enthusiasts were crowding around a booth, ooh-ing and ahh-ing at something rather exciting. The team from 'corePHP' was showing a prototype of an e-commerce extension they were building for a client, which they planned to release publicly. This was back in the days of Joomla 1.5, and what I saw was revolutionary: a beautifully designed eCommerce platform that was built specifically to sell both tangible and intangible goods, with a long list of features that anybody running an e-commerce site will want and need.
---
Sharing is Caring