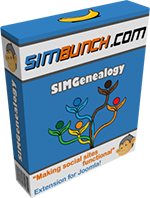 SIMBunch is super happy to announce the all new SIMGenealogy 2.0. Apart from a dozen or so improvements and upgrades, I would like to bring your attention to two of them:
Bootstrap 3.0 - We have started to roll out Bootstrap 3.0 support for all our extensions, and SIMGenealogy is the new addition. Because of this change, you will notice many UI/UX improvements throughout the entire extension.
GEDCOM Export - SIMGenealogy has support GEDCOM import since version 1.2, but we've finally added GEDCOM export, the most requested feature.
For a full list of its features, please check out SIMGenealogy's product description, or check out the demo to see how it works!