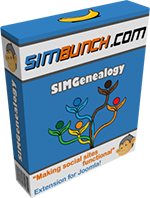 SIMBunch is happy to announce the release of SIMGenealogy 1.1. This version contains some major new feature.
New Features
GEDCOM Support - import family trees from other genealogy software using the GEDCOM file format.
Custom Fields - create custom fields to store meaningful information for each node in a family tree. Types supported include textbox, textarea, radio, checkbox, single/multiple select, and single/multiple select by SQL select.
Social Networks - a new type of tree has been introduced. Social networks allow users to map their friends or members within an organization. Here's a simple example based on the popular TV show "Friends".
Enhances and Bug Fixes
If you're using JomSocial or Community Builder, major improvements have also been made to their respective plugins. Other UX improvements include a dynamically sortable table list, and the ability to shift the entire tree while in Edit Mode, without the need to shift each individual node separately.