Product Info
Rating:
(11 Ratings)
Read reviews
Page 1 of 16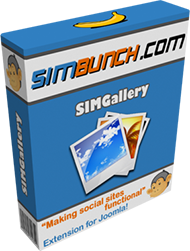 SIMGallery is the only (yes, ONLY) Joomla gallery system that was developed specifically with communities in mind, and is integrated seamlessly with Community Builder, EasySocial, JomSocial and JomWall.
Tired of all the galleries extensions out there that provide tons of features that 90% of users don't need? Looking for a component that allows your users to upload and share their own photos and videos, but every "solution" you found requires hacking, modifying, or compromises certain functionality? I know I am, which was why I created SIMGallery.
If you have a community site and looking for a way to allow your users to manage their albums, photos, and videos, SIMGallery is not only your best choice, it is your only choice! SIMGallery looks and works EXACTLY like Facebook's galleries (we're not kidding), with even more features!
Mitch Daniels

(2) rated

Most amazing gallery I've seen! It has everything I need. I love the theater mode (like on Facebook) and support for sub-categories. Must-have for all photography websites
Super easy to install with next to no need for configuration. Works out of the box.
I needed to know where the language file is located. Got a response almost immediately.
10/10! With all these features, it's astonishing it costs so little

Posted on 20 February 2016|

0 of 1 people found this helpful.

Was this review helpful to you?

Yes No

Hayden Cochran

(1) rated

SimGallery is THE BEST for LARGE community Sites. The number one aspect to this extension is that it allows you to make categories for organizing a large photo collection.
This is a very deep and complex app, BUT it is very user friendly, It really cannot be better. Perfect!
The developer, Mike Feng is great to work with, he responds promptly he is willing to help and make the app work for you. He's professional
The documentation is well organized, and it is easy to read and use.
This extension is a very very good deal, and well worth the price.

Posted on 16 February 2016|

1 of 1 people found this helpful.

Was this review helpful to you?

Yes No

iain mccarthy

(1) rated

This latest version of Simgallery provides the enhancements that any social site would benefit from.
It was easy to install and cfg.
I only had one problem which was dealt with efficiently by support within a couple of days
It seems that Simbunch has really picked up its customer service levels and now providing products that do match their claims.

Posted on 30 January 2014|

1 of 1 people found this helpful.

Was this review helpful to you?

Yes No

Martin Ramirez

(1) rated

I have just finished setting up my website (I run a minecraft gaming site) with SIMGallery, and I must say this is one extension that deserves all the credit it can get.
First of, they weren't kidding when they say SIMGallery works just like Facebook. There are so many details that went into this extension, it's just breathtaking. I especially like how you can leave comments and like photos when viewing a list of photos without having to view each photo.
All in all I am very pleased with the extension. Like I said, it's just stunning how much attention is paid to small details that really improve the user friendliness. If I could, I'd give it 6 stars!

Posted on 11 July 2013|

Was this review helpful to you?

Yes No

iveta namike

(1) rated

Thanx for this outstand component for Joomla 2.5! I use it in combination with the Community Builder 1.8 and it´s work like a charm! That´s how components and modules has to be. Especially the crop function ist quite perfect for clean designs.

Posted on 09 May 2012|

Was this review helpful to you?

Yes No

bunkergate

(1) rated

First time I saw this, I just knew I needed this component to get more action on my site. I have been testing it on a Joomla 1.5 site test server, and it meets all my needs when it comes to a gallery. It contains good modules, tagging, rating and browsing in a way that no other gallery for Joomla today offers. It is user friendly, and if there is one thing that is more important then fancy look, it is the way thing works in a user friendly way.

Posted on 04 June 2009|

Was this review helpful to you?

Yes No

bladi ardiles

(1) rated

Mike has give us the posibility to integrate a really good gallery to our community web sites. The component works great and the support works really well. You can contact Mike anytime and he will get you back in the following 48 hours with some help and in some cases ( at least my case) he will visit your web site to see what is happening and to discover where the problem is located.
I would reccomend this product to everyone looking for a photo system !!!

Posted on 04 May 2009|

Was this review helpful to you?

Yes No

bryan rodvold

(1) rated

This is such a smooth extension and is so well integrated with Community Builder that no matter how upset you are with prices or support, that once you try it out, you will realize you don't just need it, you require it.
The interface is simple and understandable to the end user. It's powerful, pretty, and clean.

Posted on 17 February 2009|

Was this review helpful to you?

Yes No

Dave Dutnall

(1) rated

This is definately one of the best written Gallery extensions out there. Looks extremley clean and professional straight out of the box but at the same time is very configurable. The tie in with CB is excellent and in my opinion is a must for any CB users.
On installation I had a few problems but was contacted directly by Mike, the developer within 12 hours who sorted these out. Its rare I do reviews on Joomla.org because I use so many components / modules that are "OK" or just fit the purpose - This component stands out from those and in turn is more that worth the review. 10/10

Posted on 04 February 2009|

Was this review helpful to you?

Yes No

Moni Johnson

(1) rated

Ok, I still use like version 1.13 of this but as of this review version 2.0.1 (something like that) is out with even MORE great features. Anyway, I can't say too many great things about this component or it's developer. This gallery looks frickin good! I love how it works with Shadowbox on the CB profile pages, especially. After adding this gallery I actually had to start upgrading the look of the profiles because the gallery out-shined everything else. Now, the one time I an issue with an updated version the developer personally emailed me a copy of the older version I preferred and stated, though he could not support every version of this component released, that he would include the feature I requested in a future update. THAT'S support! It's not the first time he's done that either. He actually LISTENS to his customers.

Posted on 30 January 2009|

Was this review helpful to you?

Yes No

Gareth Handy

(1) rated

Like a lot of people, when I first saw Sim Gallery, I thought WOW! It looks very slick, thats a fact. With CB integration and all the features and modules you could want, I purchased a copy.
Had some minor functionality problems, Mike replied to all my emails within a day and resolved all issues.
This is a great gallery and is quickly becoming a central part of my site!
Highly recommended.

Posted on 27 January 2009|

Was this review helpful to you?

Yes No