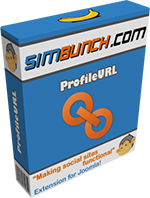 ProfileURL is a very popular extension that lets your users customize their own permalinks and vanity URLs to different parts of their content on your Joomla website. We are very excited to announce the release of a complete revamp!
ProfileURL 5 introduces a plugin system. Now you can easily integrate it with any third party extension. Your users can now create custom links to any of their own assets, vastly improving your website's SEO.
While you can easily create your own plugins, the new ProfileURL comes with a list of the most popular plugins for free!. If you wish to integrate it with another extension that is not listed, please contact us for a free quote!