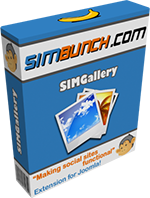 We have happy to announce the release of SIMGallery 6 and boy this one is quite a feat!
SIMGallery is the only completely community driven photo and video gallery for Joomla. Users can also easily manage multiple profile pictures. The whole user interface and user experience is just like Facebook's photos feature. You can even import albums and photos from your Facebook account! Here's a quick look at what's new with version 6:
Complete revamp on interface to increases user experience consistency.
Full support for both Bootstrap 2 and Bootstrap 3 templates.
Integrated with Google Maps API. Now media locations pop up with a map.
Theater mode browsing now loads faster by more then 200 times!
Overall scripts and CSS size reduced by 42%!
Images/Thumbnails now loads much faster!
Improved design for smartphones and tablets.
Frontend administration functions expanded.
Browsing through albums and dashboard links now load asynchronously (AJAX).
Added support for OpenGraph so Facebook shares display nicely.
Developers API to integrate their websites and extensions with SIMGallery.
As with every update to SIMGallery, it is always impossible to list all of its features. Take a quick look at the Latest Albums page, Latest Photos page, or check out your own personally dashboard and start uploading!