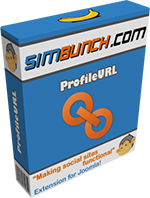 Great news, we have just released a new extension! ProfileURL lets your users create customized URLs for their profile pages. It's highly configurable and looks exactly like Facebook's profile username feature.
ProfileURL will also auto suggest URLs for users based on their usernames, first names and last names.
For more information, please check out the product description page, try out with the live demo, or BUY NOW!