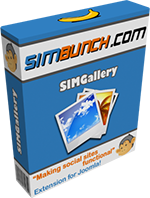 The much anticipated SIMGallery 3.2 has been released! This is a clean upgrade to work with Joomla version 1.5, 1.6, 1.7 and of course 2.5. Some minor fixes and changes were also made for the SIMGallery Pro add-on. We have started on the next major upgrade, but decided to release this first so that our users can carry on with their site upgrades.
Now all SIMBunch products work on Joomla version 1.5 to 2.5.
SIMBunch will also begin work on updating our site to Joomla 2.5. Stay tuned!
---
Sharing is Caring (ParaInvite feature):