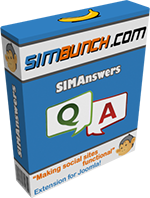 Yes indeed, SIMAnswers 2.0 is finally here! This is the much anticipated major upgrade to the already famous SIMAnswers, the perfect Q&A solution for Joomla!.
This upgrade is packed with so many new features that it is sure to blow your mind! In fact, it is now so robust, an entire website can be created around it.
"SIMAnswers is the kind of extension that when you see it, you have to get it immediately, then think of what you want to use it for later. It has created so many new website ideas for me the past year, and I'm getting new ideas for it all the time!"
- Richard Bennett
"SIMAnswers is like instant Yahoo Answers or Answers.com for my Joomla website"
- Wendez Fattori
Details of the upgrade after the break !
New Features
Backend questions/answers/comments management system (to have a live look, go to http://demo.simbunch.com and login using the demo administrator account)

Easily search for questions
Delete questions
Change question's category
Delete answers
Delete comments

Points Levels system

Set how many points is required to reach a certain level
Decide what level is required for certain activities (eg. Level 2 is required to ask questions)
Decide how many of each activity per day is allowed for a certain level (eg. Level 3 allows 50 answers per day, Level 5 allows unlimited comments per day)

Access group system

Control what activities are allowed under certain user groups (eg. only Authors and above can post answers)
Activities include: Ask questions, Answer questions, Post comments, Rate (thumb up/down) questions and answers, Vote for Best Answer

User preferences. Users can now set their own preference. Example (requires login)
Added user information (eg. How it works, User guidelines, Points system)
JomSocial activity stream. Admins can decide what activities to stream (ask a question, answer a question, post a comment, vote for Best Answer, choose a Best Answer)
JomSocial points integration
AlphaUserPoints integration
Contacts import (for emailing questions to friends) now detects ParaInvite . If ParaInvite is installed, SIMAnswers will use its contacts import scripts instead.
JomSocial and Community Builder plugins that show the user's latest Q&A activity on his profile
JomSocial plugin displays a toolbar that links to user's Q&A dashboard
Totally revamped Headboard module, with extra features (eg. Able to ask questions from any page)
Totally revamped Categories module
Questions module now allows category filter
SEO pagination, provides more links to search engines
Changed lightbox interface
Category selection now immediate. No more additional AJAX requests required.
New file structure that makes understanding and modification of the code much simpler
...and more! MUCH more!
---
Sharing is Caring (ParaInvite feature):