Details

Written by

Mike Feng
The much anticipated ParaInvite upgrade is finally here! We are not just talking about just another upgrade, but a complete overhaul!
Firstly, ParaInvite now supports Joomla 1.5, 1.6 and 1.7. More importantly though, it now uses the industry standard OAuth 2.0 to allow your users to authenticate to the different services (Windows Live Hotmail, Google, Yahoo!, Facebook, Twitter, and LinkedIn). This ensures that your users can login to their accounts safely and securely. We received many feedback that users are hesitant about sending invites because they are unsure if their information will be logged. This will encourage them to send out more invites!
The importing of contacts and invites sending uses native APIs provided by these services. This means you are no longer at the mercy of updates that break the software (existing users will understand how Facebook updates always break the OpenInviter plugins). All invites will always go through with no problems.
The interface has gotten a complete makeover. It now works and feels exactly like Facebook's invites functionality. Your users will have no difficulty using such a familiar interface. The History view now shows more information at a glance, including a separate list of friends who were successfully invited by the user.
The new ParaInvite is still integrated with OpenInviter, but as additional email services. This means your users get more options! And with all the requests we've gotten for CSV email address import, we think it's a good idea to have that for this version as well!
The changes go far beyond what's listed here (the backend got a makeover as well) and it's best you take the demo for a test drive, or check out the full features description.
Here are a few screenshots that may interest you. And oh, happy holidays!
Frontend Invites Sending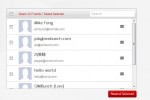 Backend Control Panel Backend Configuration (setting up Facebook API) Statistics. User search with AJAX. Badges Management
---
Sharing is Caring (ParaInvite feature):
Details

Written by

Mike Feng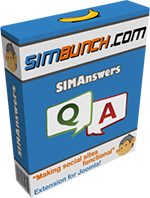 SIMAnswers 2.5 is has just been released, packed with even more features and upgrades!
First and foremost, SIMAnswers now supports all 3 versions of Joomla - 1.5, 1.6 and 1.7. Many of our users have been waiting patiently for us to get around doing this, and we appreciate your support! We will be doing the same conversions to ParaInvite and SIMGallery shortly. In fact, work has already started on SIMGallery, and more details will be available shortly. Please stay tuned.
In version 2.5, users can post code snippets in their questions and answers by using the "code" tag ([code][/code]). As admin, you can also choose to allow your users to post questions and answers using your site's WYSIWYG editor, and limit the type of HTML elements allowed.
The most important update is that users can now attach files to their questions and answers! We get a ton of requests for this feature, and we find ourselves in the very same situation recently. The file upload is done beautifully in the question/answer posting page, you have to give it a try to see it for yourself. Admins can also choose which file types users can upload, and the maximum filesize allowed.
The admin backend has also been given a facelift. There is now a control panel, and the Questions Manager has been redesigned to include the ability to administrate file attachments. Feel free to give the demo a spin!
---
Sharing is Caring (ParaInvite feature):
Details

Written by

Mike Feng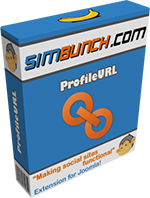 Great news, we have just released a new extension! ProfileURL lets your users create customized URLs for their profile pages. It's highly configurable and looks exactly like Facebook's profile username feature.
ProfileURL will also auto suggest URLs for users based on their usernames, first names and last names.
For more information, please check out the product description page, try out with the live demo, or BUY NOW!
---
Sharing is Caring (ParaInvite feature):
Details

Written by

Mike Feng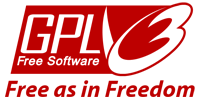 After much deliberation, we at SIMBunch have finally taken the big step and went "GPL". From today onwards, all our products will be released under the GNU GPL v3 license. This decision had not come easy, and it is after much deliberation, with thanks to the good people at iJoomla , corePHP , Joomlashack , and other amazing folks from CMS Expo , that we finally decide that this is the right move. Within the next few days, you will see our products back on the Joomla Extensions Directory.
Existing customers will not be affected by this change at all. For more information, please review the new license. Customers are encouraged to update to the latest version(s), which are fully opensource without any encoding. Also, the support ticket system has been changed slightly. Before requesting support, please ensure your licenses have been updated with the correct domains, by going to your Subscriptions List and clicking on the respective "Update Domain(s)" link.
(more after the break)
---
Sharing is Caring (ParaInvite feature):
Details

Written by

Mike Feng
For the first time ever, SIMBunch will be attending the annual CMS Expo on May 2 - 4. We invite you to join us and many other Joomla professionals to partake in one of the biggest CMS learning workshops in the world.
To commemorate this event, we are having a 20% storewide sale from now until May 4. To enjoy the discount, simply use the coupon code:
| | |
| --- | --- |
| | SIM_CMSEXPO |
See you soon at the Expo!
---
Sharing is Caring (ParaInvite feature):